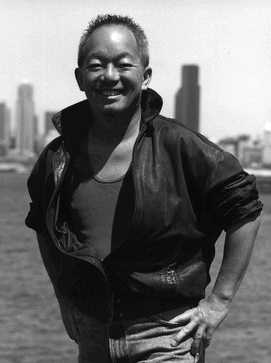 "My music is a reflection of my life," says Deems Tsutakawa, jazz pianist. "I think you'll find my music warm and friendly."
A native of Seattle, Washington, Deems is the second son of world famous artist, George Tsutakawa. He began playing piano at the age of five and was claimed winner of the Washington State Music Teachers Association's Annual Award at the age of nine. Deems originally played classical music but, as a teenager, turned his attention to jazz, blues, & soul. The American art form of jazz fit his personality perfectly.
While attending The University of Washington, where he studied ethnomusicology, art, drama, & music, Deems was determined to make music his career.
Deems' desire to be heard on a much broader scope spurred him to start his own record label, J-Town Records which began in 1977 with the release of his first 45 RPM vinyl, "Okashi Na," a quirky piano jazz tune w/ bass & drums.
His first full length 33 & 1/3 album titled, DEEMS, came out in 1982 and was selected by DR Herbert Wong (nationally known jazz educator) as one of the 'Top Twenty Vital Jazz Vinyl' in The Jazz Educators Journal. Deems was in good company right along with veterans Ron Carter, Miles Davis, and Bill Evans.
DR Herb Wong wrote, "Deems is a strongly melodic writer and even strong player…he gets a gorgeous sound and somehow betrays a secret in creating a beautiful crystalline quality."
His second album, Living Deems, released in 1986, launched the instrumental hit single, "Tough Tofu," which achieved worldwide airplay and continues to receive play on most online music sources.
Deems has produced and released some 17 albums to date, his most recent CD, Deems & Friends Live in Hawaii,, was nominated for Jazz Album of the Year 2018 by the Hawaii Academy of Recording Arts, a great honor.
Deems live performances are not to be missed. A true entertainer, his live music is electrifying and the visual animation of the artist is captivating. The bandleader says of himself, "I feel that my exuberance is infectious to the audience as well as the other musicians in my band." To see Deems perform live is to experience his indomitable spirit and as he always says of his music, "I promise you, you'll love it!"